Contact centres have never been busier, nor more crucial to the success of the organisations they serve. That is the good news. The bad news is they have also never been more popular as targets for identity fraud.
"The confluence of shorter job tenure and reduced training periods has combined to make call and contact centres more vulnerable to fraudsters," according to PYMNTS, a global leader for data, news and insights on innovation in the connected economy1.
That is supported by a study that showed contact centre fraud soared by 350% between 2013 and 20192, while Yahoo! Finance recently reported that fraudsters targeting agent-led authentication over the phone had contributed to a $5.8 billion increase in consumer fraud losses in 2021, a 70% increase on the previous year3.
Given such losses, it is no surprise a growing number of contact centres are investing in technologies that allow customers to verify their identity without needing to interact with human agents or present any physical material. Known as caller authentication and identification, the solution is saving businesses time and money, increasing customer satisfaction and reducing the risk of fraud.
As for the leading caller authentication solution? There are a few alternatives on the market, including Identify.


What is Identify?
A key feature of cloud-based call routing plug-in Oration, Identify performs the identification and verification of callers by using one or more typical questions and including optional voice biometrics for added security and improved caller experience.
By asking a caller to say something as simple as their account or phone number, Identify not only confirms their identity but removes the need to seek responses to even more questions. Less questions means less handling time, while one-way encryption of identity data ensures Convai – the company behind the technology - never stores at rest any private information.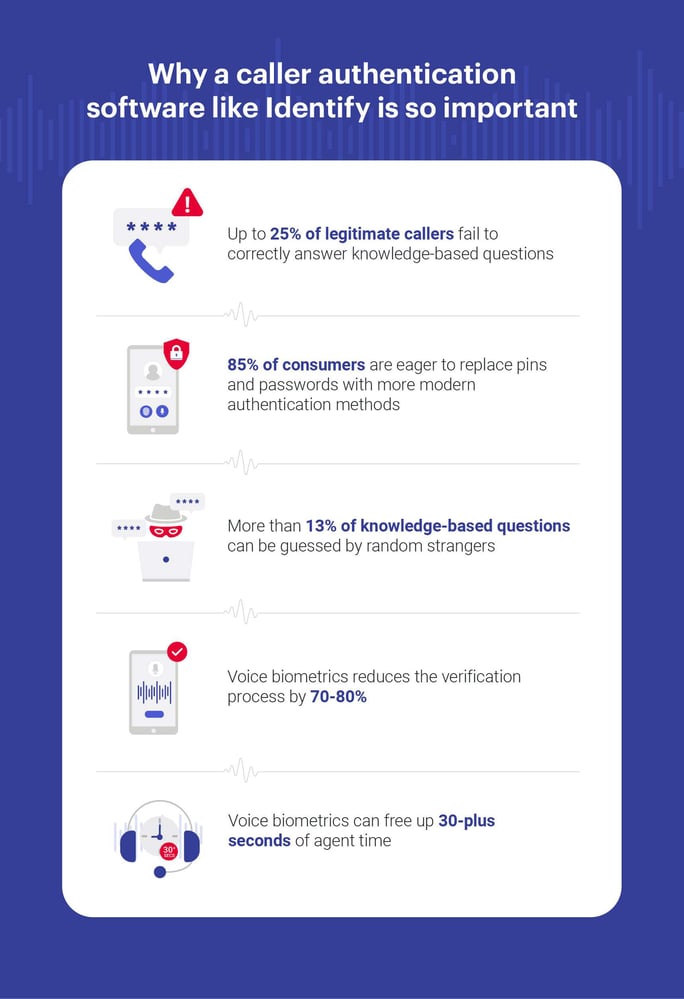 Sources: SpeechPro VBC London 2014: Biometric Authentication; Moving Beyond the Password: Consumers' Views on Authentication; The US Contact Center Decision-Makers Guide 2016



Identify in action
Imagine a caller phones a contact centre. With time of the essence, Identify immediately looks them up against their mobile or identification number to see if they exist. If the CLI (calling line identification) is registered for active biometrics enrollment, the system now asks the caller to 'speak' an identity token such as their mobile phone number. Secure a match and the caller is free to continue their journey – no more questions, no more waiting.
Should the CLI not be enrolled in biometrics, Identify requests a series of Knowledge Tokens to verify the caller (eg: their name, date of birth, address), with the number of matches required fully configurable.
Now comes the exciting part – when a non-enrolled caller successfully answers their Knowledge Tokens, the system automatically asks if they would like to enroll in biometrics and the process is as simple as them saying their mobile number three times. A further layer of security is added when the caller arrives at the contact centre, with the Identify screen showing a pending enrolment for the agent to activate by the click of a button. Better still, additional tokens can also be enrolled as needed.
Summary
In a world where fraudsters are becoming more savvy, it is reassuring to know the likes of Convai are raising the bar for contact centre security. Caller authentication and identification are allowing companies to minimise risks without sacrificing the quality and range of services they offer their customers. If anything, implementing call centre authentication best practices is boosting customer satisfaction by saving time, increasing security and improving CX.
The past couple of years have been a time of unprecedented change for contact centres. Discover the challenges being faced, the wins being enjoyed and how leaders and their teams can use innovation to stay ahead of their competitors.
References:
[1] Call Centers Become Target for Identity Fraud | PYMNTS.com
[2] 25 Indicators of Fraud on Inbound Calls | CallMiner
[3] Survey Finds Call Center Threat Activity Rising (yahoo.com)