Low implementation cost
As a cloud-based subscription solution designed for 'plug and play', the hard work has already been done for you, so you'll avoid the hefty upfront development costs usually associated with implementing call routing systems. You'll also immediately gain the benefit of a highly sophisticated call routing solution at an ongoing cost that's proportionate to the volume of calls you receive. Unlike many alternatives, you won't need to engage IT experts to manage Oration because it's so easy to do it yourself.
Improves the customer experience
Oration helps you nurture more satisfied customers by directing them to the most appropriate outcome first time and reducing the time it takes to reach a resolution. The technology also helps customers avoid the common pain point of lengthy call queues by providing easy access to unlimited self-serve options or the option to switch to other digital channels to get the information they need in a format that suits best. Oration's highly effective language model recognises customers' speech, using natural language processing, and creates an accurate transcription, so the correct intent is applied and key information is extracted.
Reduces operational costs
Every second your agents spend on the phone is a cost to your business. Ensuring the full breadth of customer queries, issues, and problems are dealt with by the most appropriately skilled agent every time will reduce average call handling times. Meanwhile, Oration's range of automated call flow features can divert more tasks and calls away from agents without compromising the speed and quality of resolutions for customers.
Offer self service
Oration uses an open question so a caller can literally ask for anything. Through natural language processing (NLP), the natural language of a caller is interpreted and used to determine an intent and next best action. This opens the door to an unlimited range of self service options that can be created for your callers.
Identify callers
Oration allows you to fully identify your caller before they reach the contact centre. This not only removes the need for agents to ask Identity questions but can also ensure their CRM system is fully populated right at the start of the call. This reduces time and increases engagement.
Complete platform independence
There's never a bad time to start using Oration. As an independent cloud solution that overlays your existing contact centre technology, you can make changes to or even replace your underlying infrastructure at any time without impacting the continued performance or functionality of your Oration call routing system.
Find out all the details via our
Full Product Brochure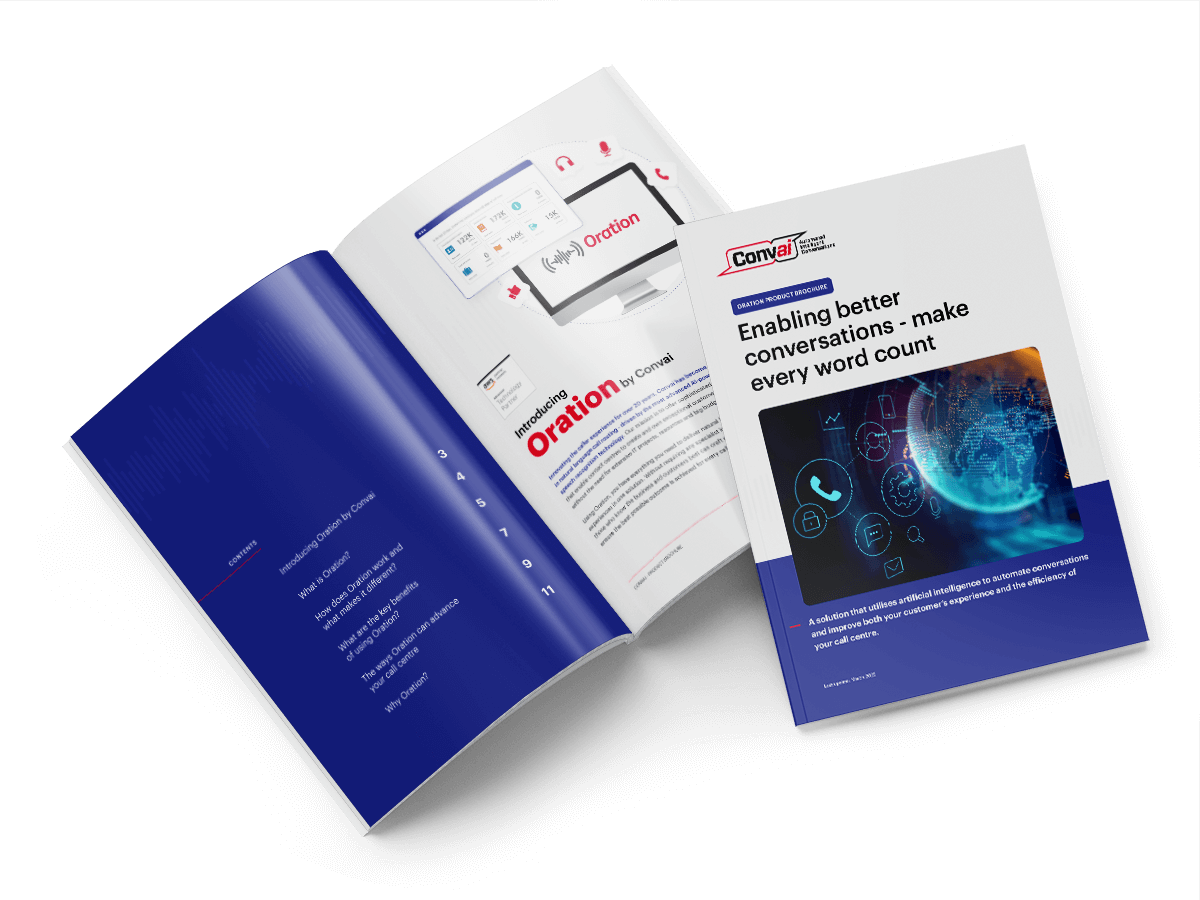 Our latest news