Remember when delivering exceptional customer experience was a bonus? The days before 24/7 service and Google reviews and shoppers having social media platforms to criticise businesses that fail to deliver on time every time. Back when organisations could strive to do their best but not live in fear of failing to meet customer expectations.
Times have changed. In today's highly competitive market, businesses are under increasing pressure to go above and beyond when it comes to customer experience – and for good reason. Studies have shown that 49% of 'loyal' customers who left a brand in the past 12 months said it was due to poor CX1, while 73% of customers say CX is the number one factor they consider when deciding whether to purchase from a company2.
Compounding this trend, the modern customer is more tech savvy and demands instant access to support and service across physical and digital channels. For many organisations, the line between business hours and after hours is not so much blurred as extinct as people expect to be able to make enquiries, find answers and resolve issues when they want and on the platform of their choosing. This is supported by research that shows 67% of customers now prefer self-service over speaking to a company representative3 and 81% of consumers want more self-service options4.
And so we come to conversational AI, the transformative technology that is proving to be a saviour for businesses wanting to thrive and scale. From mimicking human interactions to enabling more seamless customer journeys, there are many reasons an increasing number of companies are investing in the space and enhancing their contact centres with AI agents that eliminate hold times, resolve tier-1 issues and free human agents of repetitive work.
Every journey starts with a first step though and for businesses wanting to know how to get started with conversational AI, they have come to the right place.
What is conversational AI?
Conversational AI is a type of artificial intelligence that enables computers to understand, process and generate human language. Akin to a 'brain' that powers a virtual agent or chatbot, it is predicated on a variety of technologies working together to allow automated communication via text or speech. Crucially, conversational AI uses machine learning and natural language processing (NLP) to understand intent, decipher language and respond in a human-like manner. According to a recent study, the conversational AI market is expected to grow from $9.6 billion in 2023 to a staggering $47.6 billion in 20335.



Source: Conversational AI vs. Chatbots: What's the Difference? - Capacity
How does conversational AI work?
Before addressing the best way to implement conversational AI, it pays to have an understanding of how the technology actually works. By using a combination of natural language processing (NLP), foundation models and machine learning (ML), systems are trained on large amounts of data such as text and speech. This data is used to teach the system how to understand and process human language, with this knowledge then used to interact with humans in a natural way. Best of all, it is constantly learning from its interactions and improving its response quality.
Why should businesses choose conversational AI?
It goes without saying that the prime reason most businesses adopt conversational AI is to reduce costs but there is so much more like to like about the technology including:
Enhanced customer service: by providing 24/7 support and quickly addressing customer enquiries
Increased efficiency: by handling high volumes of queries simultaneously
More personalisation: by analysing user data to offer personalised recommendations and responses
Consistent messaging and adherence to company policies, which minimises the risk of human errors or variations in communication
Reduced wait times: as users can receive immediate assistance, which in turn lowers frustration and abandonment rates
What are examples of conversational AI?
Generative AI agents: use generative AI to power text or voice conversations
Chatbots: often used in customer service applications to answer questions and provide support
Virtual assistants: often voice-activated and can be used on mobile devices and smart speakers
Text-to-speech software: used to create audiobooks or spoken directions
Speech recognition software: used to transcribe lectures, phone calls, captions and more
How should you get started with conversational AI?
While there is no definitive path to conversational AI success, there are several key steps every organisation should take when exploring the technology for the first time.
Understand the problem you want to solve
Given the myriad of reasons for adopting conversational AI, it is essential to pinpoint the business problem one is aiming to solve before rushing to implement a solution. While reducing costs or improving customer experience are often top of the priority list, some organisations are more focused on increasing sales or simply promoting themselves as innovators in their field.
For example, a former client built a chatbot in the guise of its renowned mascot, with website visitors able to ask questions of the 'cute and quirky' character. That implementation was as much about marketing as customer service. Alternatively, a lot of contact centres are facing difficulties recruiting and retaining staff so the ability to use conversational AI to ease the load is welcome relief. There is no doubt the technology is a game-changer but starting with a clear understanding of one's end-goal is imperative.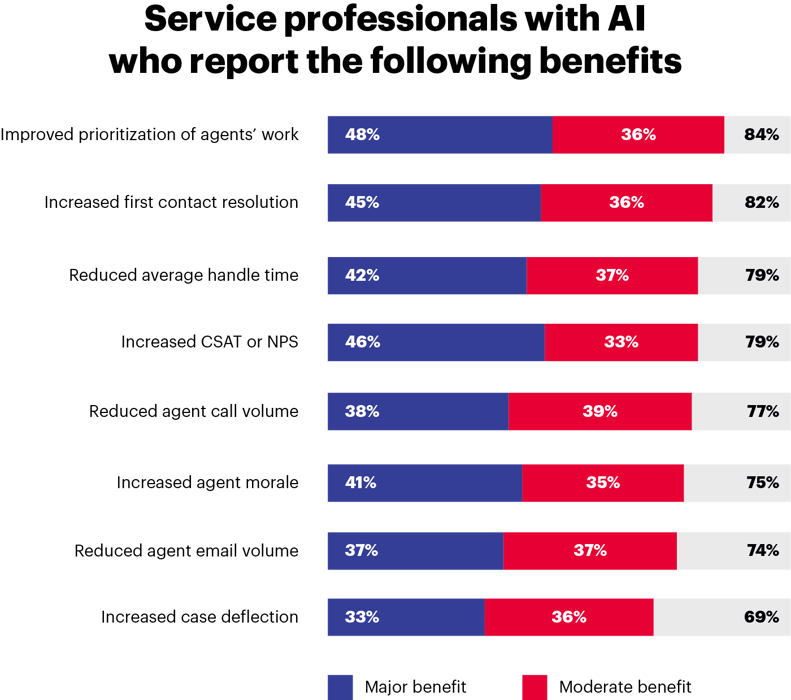 Source: Conversational AI Statistics: State of Chatbots in 2020 | Landbot

Identify where agents spend most of their time
'Digital transformation' may be a modern buzzword but few organisations predominantly focus on digital interactions with their customers. That may come as a surprise given the amount of talk about digital initiatives in the customer experience space but the reality is 'voice' continues to be the major channel of choice. Drilling down into the contact mix is a crucial step because it helps identify where agents are spending most of their time and, in turn, the role conversational AI can play.
While many modern contact centres host the likes of email, SMS, chat and messaging channels, voice remains the largest drain on financial resources. Having a definitive picture of the contact mix allows managers to make a better business case for the use of conversational AI in driving costs out of the business. There is also often no need to invest in a full-scale analysis as many organisations have existing tools such as call recordings, speech analytics and chat transcripts that can provide quality insights.
Mock up a vision of what conversational AI could deliver
Staff buy-in is essential when embracing a new technology, be it the executives signing off on budgets or the contact centre agents who will be directly impacted by its use. When it comes time to socialise the concept across business stakeholders, it is crucial to craft an implementation roadmap that clearly and concisely guides them through the conversational AI conversation.
That said, it is important to note that a roadmap does not need to be a complex document. Many managers can become overwhelmed when required to publicly present such a vision but there is a lot to be said for keeping things simple. A quality PowerPoint presentation can be a highly effective tool, with multilayered, overly detailed documents often proving counteractive.
Find seamless tools that can accelerate the vision
Befitting a competitive sector, there are an endless array of conversational AI tools in the market but the vast majority require complex skill sets possessed by difficult-to-recruit experts. Needless to say, that combination typically results in more costly projects that take longer to implement.
A far smarter approach is to search for ready-to-use solutions that do not require contact centres to start from scratch or reinvent the wheel. Conversational AI tools such as Oration by Convai can be implemented over the top of existing technology infrastructure, which means users can configure its features to their needs without or without the providers' help, accelerate their speed to market and allow them to continuously innovate.
The digital boom has resulted in a staggering increase in victims of identity theft and cybercrime. Learn why customer authentication has become one of the highest priorities for businesses and the people they serve.
Reference
1. Bad customer service puts brands at risk | Chain Store Age
2. Customer experience is everything: PwC
3. Self-Service: Do Customers Want to Help Themselves? (infographic) (zendesk.com)
4. NICE CXone | Digital First CX Report
5. Conversational AI Market Share, Trends & Forecast 2033 | FMI (futuremarketinsights.com)