There is a lot to like about using artificial intelligence (AI) to bolster customer experience. Case studies abound about businesses that have reinvented the way they operate by deploying the latest technologies, nowhere more so than the contact centre environment.
Take the case of the leading Australian retailer that was expecting a doubling in calls during a major multi-channel sales event. Knowing the importance of maintaining the highest of customer service standards, it turned to Oration's speech recognition technology and advanced AI to ensure its contact centre was well positioned to manage the increase in calls. The result? A 10% reduction in caller deflection, an average handling time reduction of 30 seconds and friendlier and more empathetic customer interactions.
A word of warning though – not all AI implementations have happy endings. Indeed, consultancy firm Gartner says 85% of machine learning projects fail1, while TechRepublic has reported that a similar number of AI initiatives eventually fail to deliver their intended results2.
The consequences of such failures on customer experience can be devastating, as seen when Microsoft's launch of its Tay Chatbot in 2016 became one of the biggest AI project failures of all-time3. Created to handle its social media engagement on Twitter, the chatbot was trained on data sets that mimicked the personality of a teenage girl but a machine learning flaw resulted in it also picking up profanities and it soon started delivering inflammatory remarks to users. Quicker than you could say 'PR nightmare', the chatbot was taken offline and a public apology was issued.
Such a tale is not shared to scare you off investing in AI but to highlight the importance of doing so without damaging customer experience. There is a reason the global call centre AI market is tipped to reach $7.5 billion by 20304 - the potential for more efficient and cost-effective interactions is too great to ignore. It is just a matter of treading carefully given the negative fallout that can unfold via poor implementation.
What is AI in customer experience?
AI in customer experience is the use of artificial intelligence technology (eg: machine learning, chatbots, conversational AI) to make consumer touchpoints as efficient and seamless as possible. In contact centres, this typically sees AI used to handle repetitive and time-consuming tasks and agents given more time to handle complex and more valuable tickets.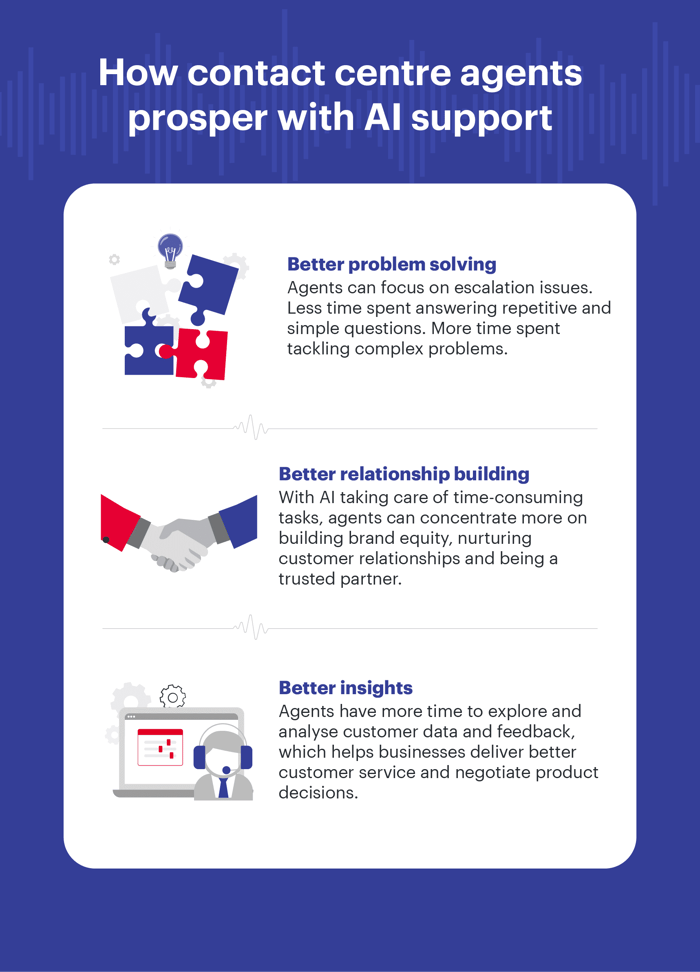 What are the benefits of AI in customer experience?
The artificial intelligence boom is helping businesses increase customer satisfaction, retention rates and their bottom lines for various reasons.
Faster resolutions
The days of customers accepting lengthy wait times when contacting businesses are over. They not only want but expect to be directed to the most appropriate outcome the first time they reach out or have easy access to self-serve options. The likes of AI chatbots and interactive voice response (IVR) technology make that a reality, with customers increasingly able to avoid the common pain point of lengthy call queues. Faster first-response times, decreased handle times and shorter wait times add up to create happier customers.
24/7 support
The modern consumer wants to deal with their enquiries or issues when it best suits them. That can mean any time of the day or night and that means businesses need a cost-effective and highly efficient way of delivering around-the-clock support. AI-powered self-service options empower customers to solve problems independently, with natural language processing (NLP) used to determine caller intent and next best actions that often do not require human agent assistance.
Reduced call transfers
One of the biggest drivers of poor customer satisfaction scores is frustration from being excessively and often needlessly transferred between contact centre agents and departments. By using the most up-to-date AI technology, call routing plug-ins such as Oration can reduce such transfers by up to 40% and improve customer experience by ensuring consumers reach the correct end destination more often on first transfer. This also reduces repeat contact volumes, another key metric in the modern landscape.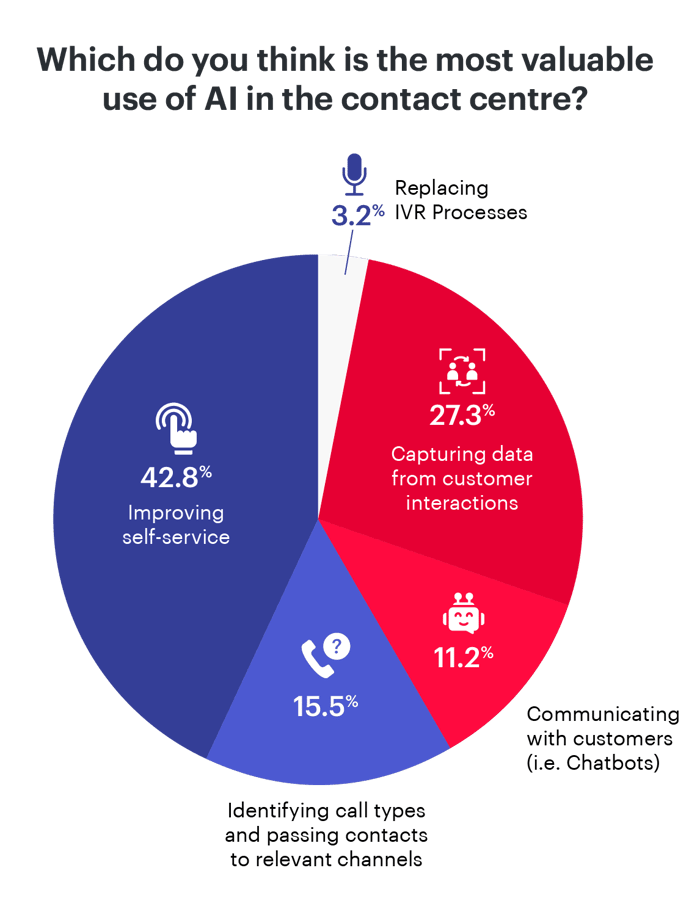 Source: Artificial Intelligence in the Call Centre: Survey Results (callcentrehelper.com)
Areas of concerns when adopting AI
AI is a must-have for today's contact centres but businesses need to be wary of various pitfalls when rolling out projects.
Over-automation
In the rush to increase contact centre efficiencies and reduce costs, it is essential to remember that customers are people, not numbers. One of the worst things that can happen in the search for better metrics and scorecards on the back of AI-powered systems is for customers to be left with a distinct lack of connection from experiences that are overly impersonal. A personal and human touch will always have a role to play in bolstering customer experience. It is just a matter of optimising language and tone across AI platforms and agents knowing the best time to step in to enhance an interaction.
Use care with ChatGPT and other large language models
The buzz surrounding ChatGPT was something to behold in recent months. Along with other generative AI, there was much fascination when people saw how it could 'write' high school essays in the blink of an eye and much discussion about its potential to revolutionise multiple sectors. Businesses should think twice before adopting it for customer service duties though and that is because there is a lack of control in how ChatGPT and other generative AI answer queries; meaning answers can be inconsistent, suffer from hallucinations, and offer poor advice. While ChatGPT and similar tools can provide what looks like a convincing response to consumer concerns, generative AI can be fundamentally wrong as it curates 'facts' from online resources – some good, some bad. Contrastingly, fully supervised AI tools provide complete control over what answers businesses provide their customers.
Ignoring real-time signals
Flexibility and adaptability are crucial to customer experience success and that requires an ability to recognise and respond to real-time signals appropriately and quickly. The problem is some AI tools are not attuned to such real-time signals and customer service workflows can become too rigid, resulting in an ignorance of consumer sentiment and missed opportunities to address concerns. There is hope though, with one study showing 82% of businesses successfully used AI capable of reading real-time signals to reverse negative interactions and bolster customer satisfaction5.

Summary
At a time when many contact centre agents are overwhelmed and customer expectations are higher than ever, AI is an invaluable tool in the battle to deliver better service and nurture happier consumers. It is not as simple as just pushing the 'go' button though. Taking the time to explore the various tools on offer, knowing their respective pros and cons and partnering with trusted experts will go a long way to ensuring your AI adoption is a story worth celebrating.
A growing number of contact centres are investing in technologies that allow customers to verify their identity without presenting physical material. Discover how caller authentication and identification is saving businesses time and money, increasing customer satisfaction and reducing the risk of fraud.