Few technologies have revolutionised the customer service space in recent years quite like chatbots. Their ability to streamline operations and help address consumer concerns without overloading agents has played a key role in increasing efficiencies, reducing costs and enhancing customer experience (CX). This is supported by research that shows 58% of people believe emerging technologies such as chatbots have changed their customer service expectations for the better… when they function as intended1.


Let's revisit those final words - "when they function as intended." That is a crucial point because in the rush to celebrate the benefits of chatbots, we must not forget that customers become frustrated when they fail to experience smooth and seamless transactions. One study found key chatbot annoyances include an inability to get answers to simple questions (80% of respondents), being forced to repeat themselves when redirected to an agent (76%) and the conversation feeling impersonal (71%)2.
Fortunately for contact centre managers, various cutting-edge solutions are on the market to lessen such frustrations. Because traditional chatbots are programmed to respond in pre-defined ways to specific questions, they often fail when presented with complex queries and therefore transfer the caller to human agents who require them to repeat their details and concerns.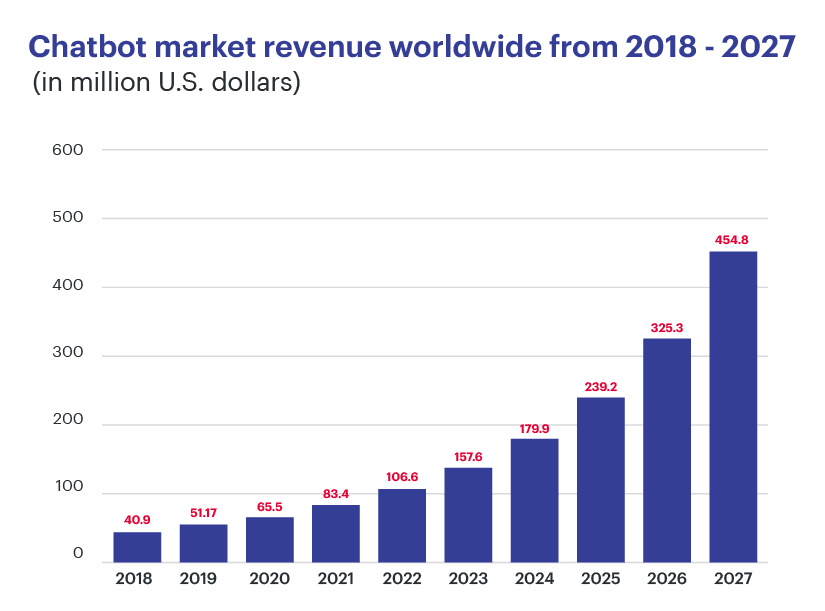 Source: Key Chatbot Statistics You Should Follow in 2023
Surely it would be better to harness artificial intelligence (AI) and greet callers using the latest speech recognition software, simulate real conversations, determine caller intent and fast-track calls to the most appropriate agent and outcome. With a seamless transfer from bot to human resulting in 60% of consumers being more likely to remain loyal to a brand3, there really is no choice but to explore the technologies changing contact centres for the better.
Virtual Agents – an AI-based software program that interacts with humans in a similar way to live agents. With the ability to handle repeatable customer interactions, recognise natural language and understand caller intent, virtual agents can serve phone, chat and text channels in a unified way and free teams to solve cases only humans can solve.
Advanced Speech Recognition – also known as ASR, this game-changer enables a caller's spoken language to be converted into words, effectively transcribing audio into text that can be accessed by agents. With contact centre staff able to see what a caller has said before they pick up a call, they are no longer forced to ask customers to repeat information and can resolve queries faster. Tools such as contact centre dashboards can also extract key details from a caller's initial interaction and present them to an agent via a screenpop.
Receptionist – this remarkable feature of Oration by Convai seamlessly connects callers with their desired person or department without relying on a human receptionist. No tiered menu systems. No lengthy waits. No staff wages. As a data-driven solution, staff names, departments, locations and phone numbers can be loaded manually or from existing directories to ensure callers connect with the right person or team every time.
Voice Biometrics – cybercrime and identity theft are on the rise, which is why contact centres must embrace the latest AI technologies to mitigate the risk of exposure. Rather than relying on the likes of passwords or tokens that require physical input, the advent of voice biometrics is enabling a human's voice to uniquely identify and authenticate their identity. With consumer data company Statista predicting the cost of global cybercrime will reach $10.5 trillion by 20254, investing in voice biometrics and other advanced security measures is a small price to pay.

Summary
The benefits of incorporating AI technology into contact centres are many – faster service, more accurate connections, reduced costs, happier customers – but true change must start at the top. Contact centre leaders need to prioritise the seamless collaboration between technology and human agents, along with ensuring the precise planning and design of the experience they want to offer. Partnering with a quality technology provider will assist that process and ensure great results happen sooner.
Customers expect a seamless and positive experience when contacting retail businesses regardless of seasonal peaks or global economic fallouts. Discover how a leading Australian retailer used artificial intelligence and complex call routing solutions to reduce average handling time by up to 30 seconds during a huge sales event.
Resources
[1] Infographic-Chatbot-v2 (cyara.com)
[2] Chatbots Are Still Frustrating Customers. Here Is Why - CX Today
[3] Are Your Chatbots Living up to the Hype? (cmswire.com)
[4] Cybersecurity - Worldwide | Statista Market Forecast