The way in which companies think about their call centres is changing. Once only thought of as a cost of doing business, call centre experiences now offer a major competitive point of difference between one company and another. In fact, 96% of people surveyed by Microsoft said customer service is important in their choice of loyalty to a brand, while 81% of companies in another survey said customer experience is a key competitive differentiator with loyalty and increased revenue the top two benefits.
With so many customers preferring to engage with brands that offer great customer service experiences, keeping on top of the latest call centre trends could have a direct impact on your sales and business growth. Taking advantage of call centre trends will enable you to serve your customers better while building a more productive and efficient call centre environment for your team. Here are some of the top call centre technology trends and how they're redefining the call centre experience from both a customer and operational perspective.
Call centre trends designed to boost the customer experience
Artificial Intelligence (AI)
AI is removing the traditional pain points experienced by customers when contacting call centres, particularly when it comes to the classic scenario of having to choose the 'best fitting' menu option for specific queries and then waiting on hold to speak with an agent who may or may not redirect the call.
Now, callers can simply verbalise their reason for making the call while AI speech recognition technology determines the precise nature of the call. By automatically recognising caller intents from natural language, calls will always be routed to the best outcome, whether that be transferring to a specialised agent or directing the call to an appropriate self-service option.
Digital channels: The choice is yours
People are more connected today than ever before. From a single device in the palm of their hands, consumers have the option to access information and communicate verbally, in writing, or by video. How someone might choose to communicate at any given moment in time can depend on a variety of factors such as the complexity of the information being sought, or whether they have the time (or are in the right place) to have a verbal conversation.
Call centre technologies are making it easier for customers to resolve their queries in the most convenient way possible by offering alternative solutions upfront such as live chat and chatbots or digital channel shift capabilities which enable callers to switch to live chat or receive information via SMS or email.
Building omnichannel environments
Giving customers the opportunity to engage with a customer service team in a few different ways is one thing, but it's important to consider the overall experience customers have when taking advantage of different technologies. An omnichannel environment is where all channels of communication are integrated, so customer interactions are tracked, monitored, and recorded wherever they take place.
With omnichannel capabilities, customers don't have to repeat themselves when switching from one channel to another, like calling to follow up on an email or live chat support query, because agents will have visibility over all past interactions.
Personalising the experience with knowledge-powered call centres
Today, there's a real emphasis on data-driven customer services, and current trends in call centre technologies are showing us how data is being harnessed and analysed to deliver more personalised experiences to customers. From the moment a call is automatically picked up, some AI speech recognition technologies will not only route calls to specific agents based on intent, but also analyse the sentiment and personality traits of callers from the current and historical interactions to ensure calls are picked up by agents who have the best skills to handle the calls well. Calls could even be directed to agents who have dealt with the caller before to leverage the familiarity.
Key information about a call can also be captured from caller verbatim and the CRM before being automatically sent to agents' screens, so they are better equipped to address callers personally and offer the help they need. This information could include anything from caller intent, name, and customer number. Integration between the IVR and CRM gives agents transparency over past interactions and transactions which can help to offer individuals a faster and more seamless resolution.
Advanced reporting and analytics capabilities offered by some IVR solutions also enables call centres to identify common call types which may lead to offering customers a wider range of personalised self-serve options.
Using social media to the best advantage
Many of your consumers will be engaging in all kinds of conversations on social media, so it makes sense that for some people, your company's social media channels will be a go-to method of communication for asking questions or raising concerns. Importantly, call centres are recognising that the public nature of their social media platforms makes it essential to respond to customers promptly to maintain a brand's reputation in the market. At the same time, making useful information available on social media channels for everyone to see, or even share around, could result in lowering call volumes within your call centre.
24/7 support
IVR solutions that can automatically greet callers and use speech recognition to route calls are being recognised for their ability to provide more robust support to customers around the clock. One of the main reasons for this is that they don't rely on customers choosing their routing options from a short menu, but rather, they have the potential to direct calls to any number of outcomes based on their verbal response. Consequently, this opens opportunities to create a comprehensive range of targeted banners providing all kinds of information, as well as self-service options like making payments and checking balances, potentially resolving many more queries and tasks outside your standard call centre hours.
Call centre trends driving productivity and operational efficiency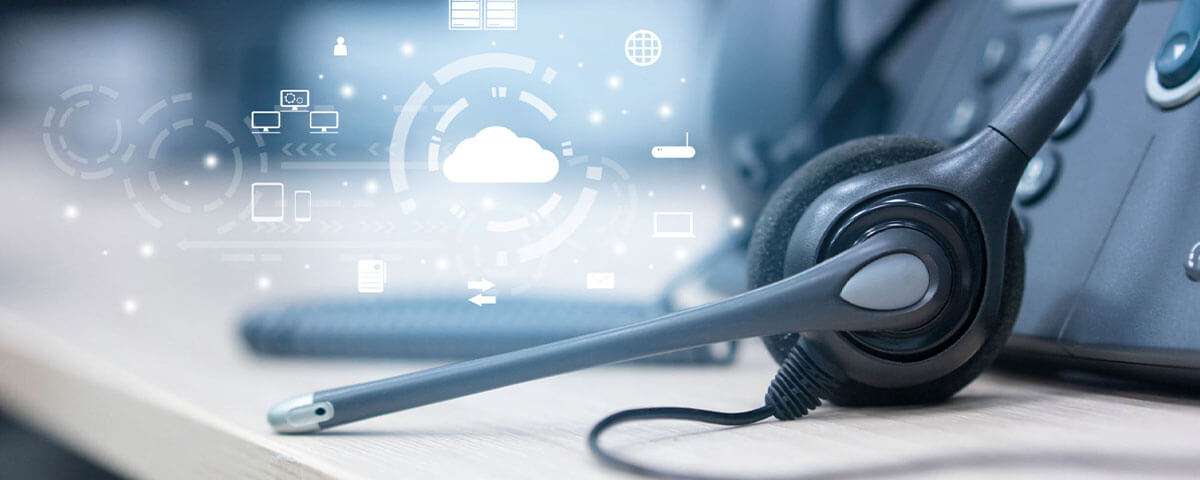 Moving to the cloud
Businesses of all sizes are benefiting from cloud call centre technologies and for two main reasons. First, migrating to the cloud means companies don't have to invest in the hefty upfront costs of developing and implementing their own systems and second, the ongoing costs usually associated with maintaining and upgrading technology infrastructure is virtually non-existent because cloud solutions are continually updated for you.
Specifically, affordable cloud technology Call Centre as a Service (CCaaS) is now making efficient call centre solutions accessible to small businesses for which the costs of implementing their own systems were once out of reach. On the other hand, for the larger players, the costs of operating call centres that handle high call volumes are much lower using sophisticated cloud call centre solutions – not least because they can be rolled out quickly without disrupting the customer service experience while bringing in a range of features which reduce call volumes and save agents time on the phone.
Transcription
Call centres are increasingly implementing transcription technology into their call centre ecosystem because they have the potential to save agents a lot of time (and therefore lower costs). So, how is transcription being applied in call centres?
From the moment a caller is greeted, initial verbatim about the nature of a call can be captured, transcribed, and sent to agents' screens, so they're prepared to jump straight into resolving the query without asking for basic information from scratch. The ability to automatically capture data, such as a customer number, and convert this into alpha-numeric form also means that customer records can be accessed and provided to agents ahead of the call without having to do the work themselves.
Transcription can also save agents time on the phone and the time they take to complete necessary after call work. For example, transcribing and recording key data and customer verbatim during a call means agents don't have to data enter while on the phone or spend as much time logging call details afterwards. Meanwhile, the ability to access and review transcriptions from previous customer interactions means agents are better equipped to understand the context of queries and it might even result in a faster resolution.
Refining call-flows and experiences with analytics and reporting
Modern-day call centres place high value on continuous improvement when it comes to bettering customer experiences and becoming more efficient and productive. Unsurprisingly, there is a growing focus on developing the tools and capabilities required to gather the type of useful insights which drive a more proactive management style. An example might include a cloud call-routing solution that gives managers real-time transparency over call data and key metrics, as well as identifies common patterns and trends across call types.
Insights presented through intuitive dashboards are empowering call centre managers in several ways, enabling them to tweak and adjust call-flows, make changes to staffing needs and training, or even consider how introducing self-serve options might reduce calls reaching agents.
Automation and self-service
IVR containment rate refers to the number of calls that are handled entirely within the IVR, without agent involvement. Needless to say, the higher a call centre's containment rate is, the lower the costs of operations will be because not as many agents are needed to handle calls.
Strategies to increase containment rates without compromising the quality of customer service are taking centre stage in many call centres, but whatever steps are taken, automation is usually the key. Fortunately, with so many consumers now wanting to feel like they are in full control over their own resolutions, automatically routing calls to self-service options or deflecting calls to other digital channels and resources based on an accurate understanding of caller intent are incredibly effective ways to drive down the number of calls reaching agents.
Importantly, taking some of the burden away from agents by automating certain tasks means they could have more time to focus on delivering more exceptional and highly personalised experiences to callers requiring human help.
Integration and remote capabilities
Plug-and-play cloud call centre solutions are simplifying traditionally complex internal call centre infrastructures because new software and features can be added and removed without impacting other systems. The modern call centre ecosystem is being transformed by the concept of integration which allows multiple business systems to communicate with each other. In other words, this could allow your IVR to access a CRM to provide records and information to agents as well as automatically creating new records and entering data.
Cloud contact centre solutions are also making it possible for managers to hire remote agents who don't need to be physically in the office to access the call centre's IVR. Remote access capabilities can not only give call centres the benefit of agents with specialised localised knowledge, but it can also help to attract quality staff looking for more flexible working arrangements.
Building for scalability and flexibility
Businesses are looking for technologies that help them grow. A major benefit of cloud call centre technology is that their features and capabilities can be customised for different businesses and continually adapted as needs change. New features are also often easily configured in a matter of hours, rather than implementing time-consuming IT projects which can often come too late or be too expensive to deliver a return.
Compared to traditional systems, cloud call centre solutions also support business growth by making it easier to add new agents to your network as well as through virtual receptionist capabilities which ensure calls never go unanswered, even when there are sudden increases in call volumes. The ability to handle calls virtually, and even follow through with automatic resolutions, means business expansion doesn't always have to go hand-in-hand with increasing agent headcount.
With call centres having become a competitive point of difference across all industries, many companies are striving to deliver the best customer services while taking the opportunity to save valuable time and resources. Keeping up to date with the latest call centre trends and being informed about how they're impacting the call centre experience and operations could help you get the balance right when considering which technology options will work best for your call centre.
Take a look at our case studies to find out how we helped Panasonic Australia and Big W improve efficiencies and reduce costs in their call centres with the latest call centre technology.